20 YARD DUMPSTER BIN RENTAL
Good For Materials Like:
WOOD
CERAMICS
AGGREGATE
ROOFING
FLOORING
DRYWALL
FURNITURE
GREEN WASTE
TRASH
OTHER
Homeowners tend to use 20 yard bin dumpsters for their major remodeling and other large home renovation projects. If you're adding an addition to your house or clearing out grandma's attic, a larger bin might be the right fit.
How MUCH Will It Cost?
$225 + HST – 20 yard bin
$95.00 + HST per ton (minimum 1 ton)
Price is for each time we take the rental bin to the landfill plus landfill fees.
If you plan to dispose of restricted items, expect extra charges to cover the disposal of other fees Dump Commander faces when we arrive at a transfer station with them.
How Long Can You Keep The Dumpster?
The rental is for up to five days if you want to keep it longer there is a fee of $20 per each additional day. In that time, we can remove our waste as many times as you fill the bin up.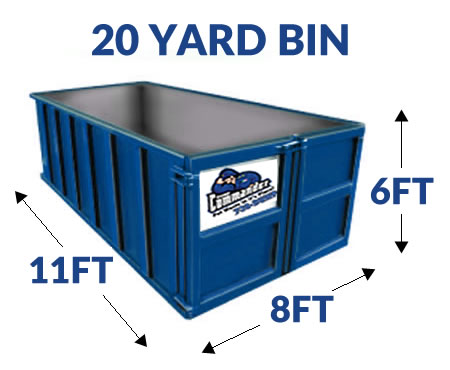 Locally Owned And Operated
Fully Licensed And Bonded
709-738-3867
709-743-4166
CALL NOW!
FREE Estimate